State Mandated Transportation Plan
SUHSD Families, Staff and Community:
Assembly Bill 181 introduced new Education Code sections (39800.1 & 41850.1) that require Districts to develop and seek input on a plan showing how they will prioritize transportation for unduplicated students (low income, English Language Learners and Foster youth).
On February 13, 2023 staff provided a presentation to the Board of Trustees regarding the new mandate and requirements.  You can listen to that presentation here:  February 13th Board Meeting
Sweetwater Union High School District is seeking input on the proposed Transportation Plan for the 2023-2024 school year.  This plan will be going before the Board of Trustees for approval on Monday, March 13, 2023 with the goal to implement in the 2023-2024 school year.
Click here to view the draft plan: SUHSD Transportation Plan 2023-2024
Click here to provide your feedback: Comment Form
You may also reach out to Jenna Sather, Director of Transportation by phone (619)585-4456 or by email jenna.sather2@sweetwaterschools.org
Plan de transporte bajo mandato por el estado
Familias, personal y comunidad de SUHSD:
El Proyecto de Ley 181 de la Asamblea introdujo nuevas secciones del Código de Educación (39800.1 y 41850.1) que requieren que los distritos desarrollen y busquen comentarios sobre un plan que muestre cómo priorizarán el transporte para estudiantes no duplicados (bajos ingresos, estudiantes del idioma inglés y jóvenes de crianza).
El 13 de febrero de 2023, el personal hizo una presentación a la Junta Directiva sobre el nuevo mandato y los requisitos. Puede escuchar esa presentación aquí: Reunión de la Junta del 13 de febrero
El Distrito de Escuelas Secundarias Sweetwater Union está buscando información sobre el Plan de Transporte propuesto para el año escolar 2023-2024. Este plan se presentará ante la Junta Directiva para su aprobación el lunes 13 de marzo de 2023 con el objetivo de implementarlo en el año escolar 2023-2024.
Haga clic aquí para ver el borrador del plan: Plan de Transporte SUHSD 2023-2024
Haga clic aquí para enviar sus comentarios: Formulario de comentarios
También puede comunicarse con Jenna Sather, Directora de Transporte por teléfono (619) 585-4456 o por correo electrónico: jenna.sather2@sweetwaterschools.org
---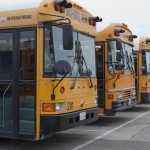 Address:
1130 5th Avenue
Chula Vista, CA 91911Transportation
Department Main Office number:
(619) 691 – 5527
Main Office FAX:
(619) 407 – 4983,
(619) 407 – 4903
Phone:
(619) 691-5527
Email:
transportation@sweetwaterschools.org